The Women in STEM Network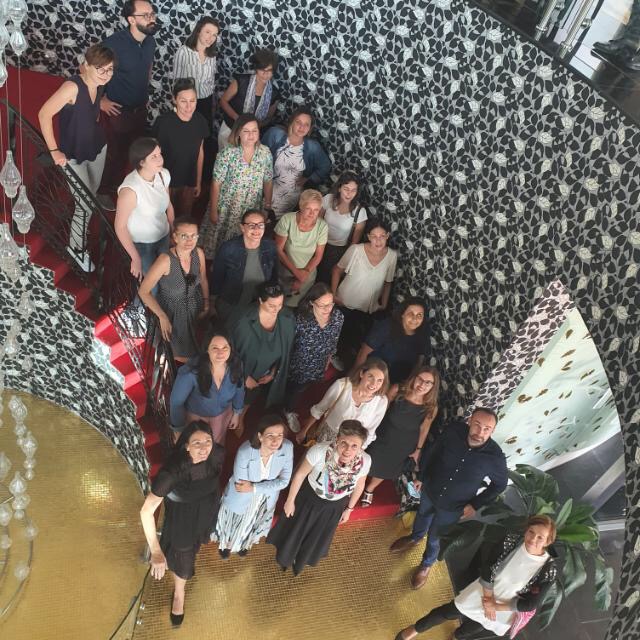 Last week, The Regional Cooperation Council (RCC) and the United Nations Development Programme (UNDP) assembled a group of women from Albania, Bosnia and Hercegovina, Kosovo*, Montenegro, North Macedonia and Serbia. The objective was to meet and work as a group as a means of establishing the Regional Network of Women in STEM (Science, Technology, Engineering and Maths). The Women in STEM Network aims to expand opportunities for girls and women in educational and workplace contexts within the Western Balkans, focussing on STEM related fields. Ingrained patriarchal values and traditional culture norms are hindrances to women's empowerment and gender equality in the Western Balkans (WB) region. This group of women are determined to address and resolve this and any other obstacles to the progress and empowerment of women in STEM.
The impact of COVID-19 resulted in a significant step backwards to recent progress regarding the reduction of gender segregation within occupations and women's under-employment. The unequal participation in domestic duties has disproportionately impacted on the economic actualities of working women. At the same time, during the COVID-19 crisis, companies have accelerated their digital transformation as a crucial strategy for survival and future success.
Analytics and automation are absolutely key to successful digital transformation for businesses of all sizes. The global pandemic, seismic in its impact, has both accelerated the need for robust transformation strategies and simultaneously highlighted the cracks and strains relating to gender employment.
We recognise that the life-blood of our network is STEM education as an integrated, interdisciplinary approach to learning that provides hands-on learning experiences for students and wider communities. We see STEM teaching and learning beyond the mere transfer of knowledge. It is a mechanism for initiating and equipping learners with critical thinking, problem solving, creative and collaborative skills. This mechanism ultimately establishes interconnected relationships between work places, schools and communities and regional economies.
Even before the pandemic, organizations were struggling to recruit and retain people with the skills needed to help them succeed in a data-driven world. Part of the solution is to retrain current workforces into productive data analytic practitioners, which are closely STEM related. A person-centred approach is essential to success, as is infusing a culture of familiarity and expertise with data analytics overarching various organisations. Focussing on human-centred approaches makes data analytics accessible to a broader demographic, particularly women, which is now more than ever crucial in the current working environment.
Throughout the pandemic it has become even more obvious that in order to gain a competitive advantage in a business environment, companies will have to provide an inclusive framework supporting work life balance and flexible work arrangements. By doing this, they will attract and retain a talented workforce and enhance women's access to non-traditional jobs. It is very desirable to introduce certification for gender equality standards, to encourage and recognise commitment to advancing the careers of women in STEM. Certification showcases a company's commitment to gender equality and transparency and helps to create a cultural perception of a more equal and fairer society in the region.
We all recognise that in addition to addressing the talent pipeline issue and encouraging more young women to pursue careers in STEM related fields, there is more that industry can and should do. We have an obligation to be mutually supportive; this is the first step in countering unconscious bias and genuinely empowering people. Difference is an accelerator of innovation.
It is now agreed that the Women in STEM Network is going to be based on a data driven framework with the principles of equity, partnership, and sustainability. The network will seek smart, scalable solutions that lead to removing barriers and creating equitable access and opportunities for historically underserved groups of women. Gender focus is at the heart of the process of developing new programs and initiating projects as a means of closing the gender gap. Our initiative seeks to develop mechanisms of support for women as they strive to become leaders, critical thinkers, and creators. The networks created will develop new programs, projects, funding opportunities and consequently create greater opportunities for gender minorities.
The core team of the network incorporates a representative from each country. Dr Tatjana Kecojevic is the lead representative for the Serbian National Women in STEM Network. Tatjana is a data scientist with a doctorate in Statistics from the University of Manchester. She spent many years working in the U.K. university sector as a senior lecturer and has published an extensive number of articles and papers relating to data analysis. Tatjana established the chapters of R-Ladies Manchester, Belgrade and Novi Sad and is a member of the R Forwards team and a Women in DS (WiDS) ambassador - roles dedicated to empowering women. Currently, she is the director of SisterAnalyst.org, an organisation aiming to empower women from a diverse range of backgrounds through data literacy. In addition to her involvement supporting women in STEM related activities, she is dedicated to creating an inclusive culture by developing community initiatives supporting all underrepresented groups.
Sister Analyst believes that establishing supportive communities with a cross section of data literacy skills is a necessary step in the direction of empowering women in the workplace. We are convinced that you do not need to be a maths or computer person; it is all about learning to ask the right questions when in possession of available data. Our regional STEM Networks will bring educators, business leaders, STEM professionals, and community leaders together to build success connecting STEM career opportunities within their communities.
---
* In the context of the UN Resolution 1244/1999.